" I got home tonight and the lids look amazing! It was actually my grandfather's birthday yesterday so to have the canister set complete again in my kitchen is perfect. It is like having a little piece of my grandparents with me each day. You even got my husband out of the dog house after he caused the damage by accidentally flinging it across the counter. The work you do is nothing short of amazing. Thank you so much!" Jen Melton







"Kimberly Timbs of Patina Conservation Studios did an outstanding preservation and cleaning of my early 19th century French Rococo desk. She restored the leather top, filling in scratches and replacing holes. Plus Kimberly extensively researched the metal decoration, finding some unusual facts about the chemical composition that impacted the cleaning methods. She left me with copies of the photographs and research, including the name of where these styles of decorations are still made.
I'm smiling every time I look at my desk, and so does everyone else. I highly recommend Patina Conservation Studios."
Astrid Gallagher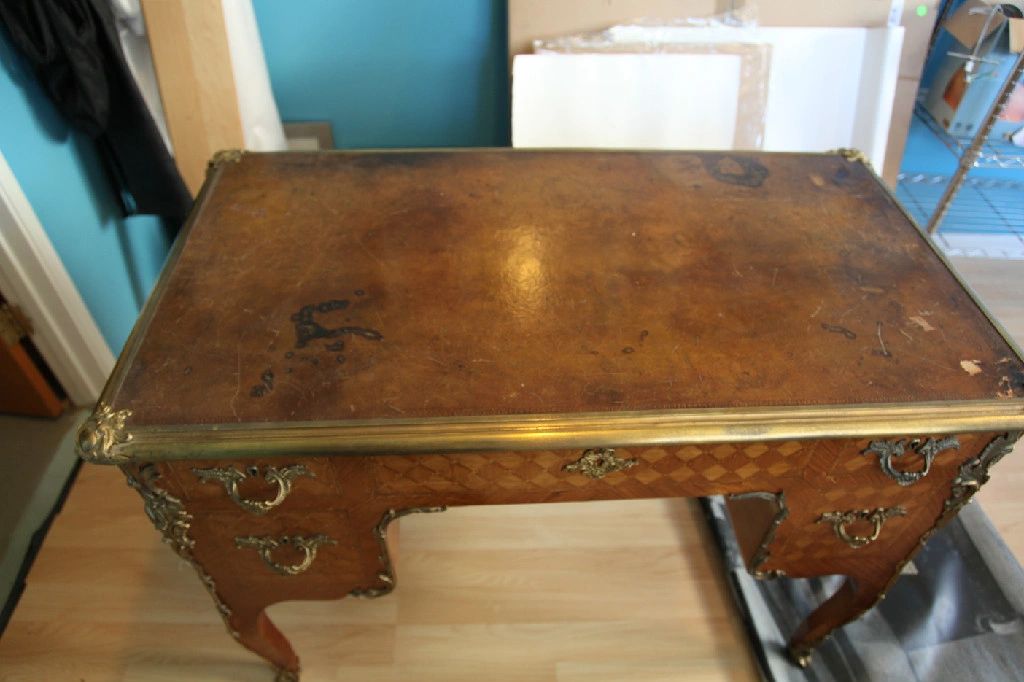 Before treatment



After treatment

"Patina Conservation Studios was contracted to clean and flatten a piece of leather brand registration in March 2012. Ultimately, the goal was to return the brand registration to a condition that allowed it to be safely and beautifully displayed in a museum exhibit.
Patina gave a clear and concise treatment proposal based on our needs, along with a reasonable cost estimate. The work conducted proved to be exemplary! Care was taken to test the brand before cleaning to prevent damage. When returned, the brand no longer showed evidence of dirt or deposits and was no longer curling around the edges. Additionally, the color of the brand was improved considerably, allowing for better visibility of the writing on the surface of the leather. We are able to frame the brand in a shadow box and it serves as a very unique and interesting piece in our current historical exhibit.
I was very impressed with Patina Conservation Studios ability to complete the requested work in a timely and professional manner. I was especially pleased to see a thorough treatment record along with photos. I would highly recommend Patina for all of your conservation needs."
Respectfully yours,
Erin Newman
Chief Administrative Officer
History Center of San Luis Obispo County